Episodes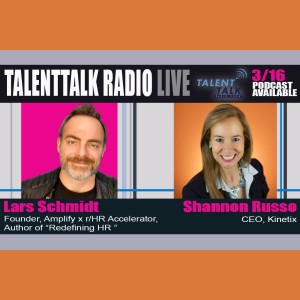 Wednesday Jun 02, 2021
Wednesday Jun 02, 2021
No two businesses are exactly alike. Owners and CEOs should be tailoring their practices to both existing employees, and potential hires. On this episode of TalentTalk with PeopleG2 CEO and host, Chris Dyer, and guests, Lars Schmidt and Shannon Russo, we articulate various ideas about company culture. This includes doing away with the dreaded meeting overload, selling a job to all the potential hires, how to improve workflow, and more.
Joining us in the first half is Lars Schmidt, Founder of Redefining HR, Author of the Bestselling Book: "Redefining HR",  Podcast Host, Modern HR Advocate, Founder, Amplify (HR Executive Search/Consulting), Fast Company Contributor. We discussed how not all company practices can fit every person, and that there are huge shifts going on in how companies can tailor their workflow and resources to their employees to make life easier, more productive, and faster due to increased communication outside of meetings. 
Shannon Russo, CEO, Kinetix and Talent Scout, also joins us to talk to the process of finding candidates that fit for a particular company or industry. There are challenges in finding the right candidate compared to a year ago (2020 vs 2021) and selling a job position to the right candidate through active recruiting can certainly be a challenge.
Looking for more than audio?
View our TalentTalk Radio video recording on TalentTalk Radio host, Chris Dyer's, channel. >> CLICK HERE